Mansur's Accomplishments
---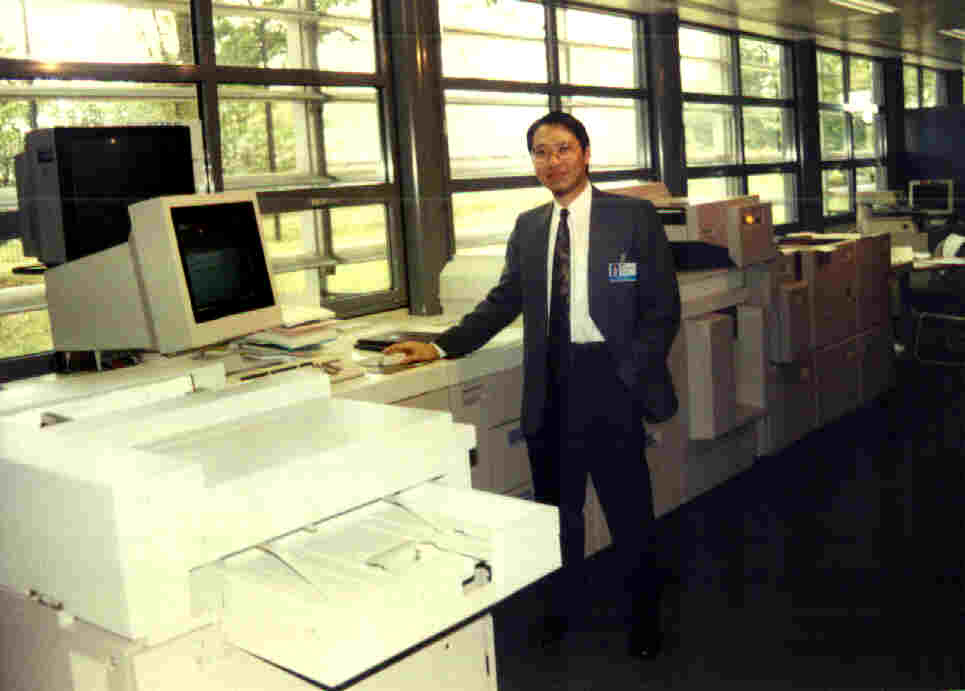 Abu Mansur seen on the photo at left with the Xerox DocuTech 135 in Wellwyn Garden City in the UK. This photo was taken during the pre launch exposure before being engaged as a Xerox sales specialist for the product in 1994. He has 15 years of experience selling and managing sales teams in Fuji Xerox Asia Pacific - Malaysian Operations. In the last 5 years he has amongst other things consulted for IT System Integrators training and aiding in the selling cycle for tenders amounting to RM 50 million and more.
He has gone through the whole complement of in house training programs such as Professional Selling Skills II(PSS II), Account Development Strategies (ADS), High Volume Sales, Various Negotiation Training Programs, Document Production Systems Training (London) for selling high value digital printing solutions (US$300,000 and above systems) and has a wealth of hard core personal experience.
As a sales executive, he has won practically every demorama contest (product demonstration competitions) since 1984 in Fuji Xerox. He is also a prolific speaker in Fuji Xerox Malaysia Seminars and customer training workshops. He has also been rated as the best High Volume Sales Executive exceeding 100% field performance with an annual sales target exceeding US$1,000,000.
In 1997 to 1999 he managed the sales team in Fuji Xerox Asia Pacific selling these high end systems. In 1998 he was one of the top performing sales managers in Fuji Xerox Asia Pacific Malaysia winning an European Incentive Trip with the best Malaysian sales performers.
In his seminars, Abu Mansur will answer questions for those who wish to improve their personal skills or those contemplating sales as a career. Selling skills are unique in that it is highly marketable across a range of industries. Sales is one profession that you can make as the highest paying hard work or lowest paying easiest work in the world. It is entirely up to you. What other profession can offer you that?
Here you will get answers from someone who has been through it all selling from Xerox papers to high end solutions and managing a team of sales specialists in one of the most aggressive and dynamic sales organization in the world, the Xerox Corporation.