Introduction To The Gelanggang Silat
(Archived from Pendekar.Com, now defunct...)


---
Over the last 8 years or so, ever since I started Mansur's On Line Silat Resource I have received a lot of very positive e-mail feedback from readers on the various articles I wrote and put on-line. I also found that I enjoyed interacting with readers and what is very encouraging is the level of commitment from enthusiasts all over the world on Silat. That has encouraged me to update the site from time to time.

Again and again one major issue that stood out was the dearth of quality instructors and source of good information in the West regarding Silat and the Malay culture. Another problem was language as the medium of instruction was Malay. Many Malaysian and Indonesian Silat homepages are written in Malay for instance and many good instructors or gurus may not speak English at all. This is especially true in the villages of Malaysia and Indonesia. This is where I come in, having fairly good command of spoken and written English, I can help relay a lot of the materials available in a language most will understand.

I will have to remind readers that I am no guru. However, I did grow up with Silat starting at the age of 12 and in one way or another have been involved in Silat (sometimes minimally) until today, that's over a span of over 24 years. What I have is an insight into Silat and the Malay culture combined with an understanding of various technologies such as photography (the photos presented here are originals taken by myself), videography, web technology and from my Xerox experience exposure to the creation and development of knowledge repositories (at least in concept). This I am adapting into developing this resource which I call the Gelanggang Silat.

Gelanggang is a malay word that has a few meanings. In the context of Silat it denotes the place allocated for training. To show an example I have placed a picture of my Silat Cimande mates at our gelanggang in the town of Seremban, Negeri Sembilan many years ago. These pictures were taken while I was back for holidays from studying in Australia circa 1980.

| | |
| --- | --- |
| | |
In the photo on the left, I am sitting in the front row second from left. Notice that it is night time and the coconut fronds that have been set up around the gelanggang. Some Silat groups are secretive about their art and outsiders are not allowed to watch. We trained either in darkness or by gaslight until the wee hours of the morning. There were times when we trained up to 3:00am to 4:00am in the morning in the month of Ramadhan. The practise is often with the accompaniment of musical instruments such as the gong and drum (gendang). You can see the musical instruments in the photo below when I did the 'sembah pengantin' at a wedding. This was around 1983.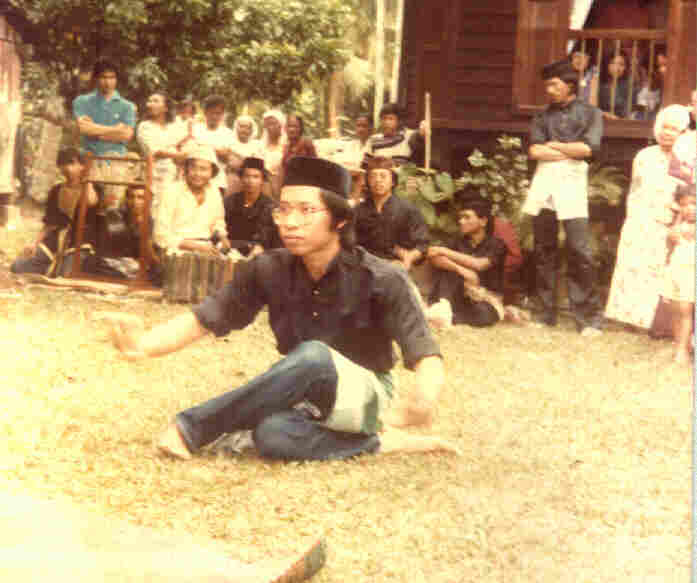 Notice the ensemble at the back comprising of the various traditional instruments. In front of me was the pengantin (bride and bridegroom) who were seated on two chairs placed on the mat that you see in the foregound. The photo below show what we looked like when our group went to a wedding. Sometimes we wore full Silat uniforms.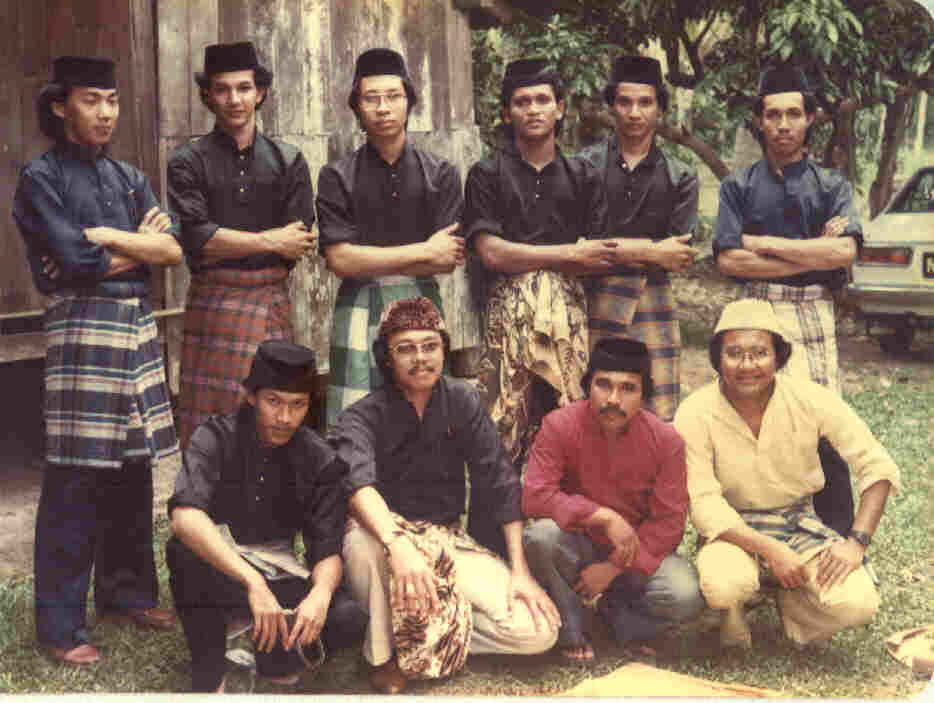 So let's say it was a cold wintery night in Minnesota, or Tennesse, some one who has no opportunity to find any Silat practioners at all, can log onto this site and gain access to quality information on Silat. In a way, it is a method for you the readers to sample some of my personal experience and gain a little bit of an insight as what it felt like to grow up in the culture of Silat in modern Malaysia.
The technology of the internet makes time and distance meaningless and allows Silat to come alive(or at least near to it) in your homes. Of course the other considerations are security as some of the stuff I am putting up are the real thing. That is why, like the traditional gelanggang, not everyone has access as some of the things presented here. Some things are not normally shown in public.
Also this site has to pay for itself, hence the subscription. I don't believe in debt. Currently all resources such as pcs, server, video cameras, camera, time and effort is by me alone. I hope to get someone to help me run the site, buy software and hardware to contantly update the services delivered via the gelanggang. I also hope to generate enough revenues to locate and visit some of my guru's who are residing in Australia and also Indonesia. I wish to help present them and their system for your benefit. Your contributions will help enhance the quality of the information delivered by this service.
---
See also page on Healing

Back to PERSIS or Mansur's On-Line Silat Resouce